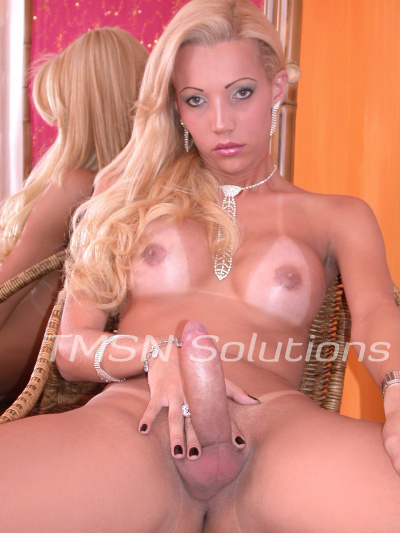 TS Alexus 844-332-2639 EXT 349 
Your wife wanted a threesome and you thought you had won the jackpot when she brought me home. Such a hot, tall, blonde with a fat ass. Your cock jumped at the thought of fucking the both of us. In the bedroom, I let you kiss me and fondle my tits. You were grinding your hard-on against my hip, so greedy for some attention.
You didn't even ask your wife how she wanted this to go. With a wicked smile, I let you remove my panties and the shock on your face when my dick looked at you was priceless. You didn't realize you were here only as a Transsexual dick fluffer.
Transsexual Dick Fluffer
You searched for her, hoping she would disagree and not make you suck me ready but she was laying on the bed waiting for my dick to own her pretty cunt. I gripped my meat and slapped it across your face. She laughed when your dick dribbled precum.
You fucking want this too, you just don't want to admit it. Good thing I'm not giving you a choice. I grip your head by your hair and pull your lips to my cock. You have the shut but that's okay little fluffer, I'll force my way in. You are going to suck my dick good and then I'm going to fuck your pretty wife until she makes me cum inside of her.
When we're finished there will be plenty for you to clean up.
TS Alexus 844-332-2639 EXT 349
https://phonesexcandy.com/alexus/
https://tlcphonesex.com/alexus/