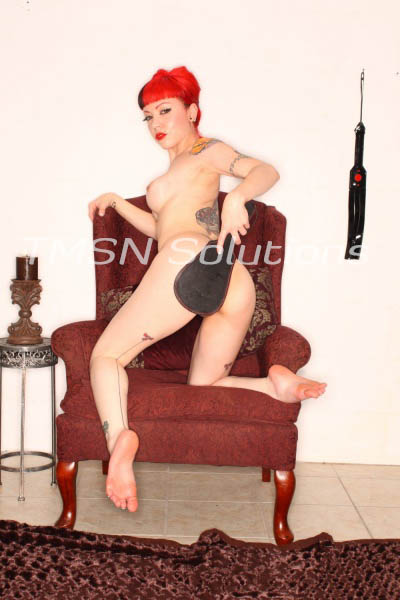 844-332-2639 ext 205
Spank me harder. I never can get quite enough of getting it as hard as I give it, and if you know me even the slightest bit, daddy, you know I like it fucking harder. I want you to spank me like the red headed step I am, and one just as dirty and nasty as I am, too. Spank this pretty, tight ass so hard its as red as my hair, daddy, I deserve it for being so bad.
Sometimes even a nice girl can be a bad little girl, and I can be the worst little girl because I'm a bad girl to start with. I know I'm a mean greedy cock teasing bitch, I know I never give it up nearly as much as I make it seem, I know I dress like I want it when I might not.
That doesn't mean I know I'm not a bad girl, daddy, and deserve to be put over a knee and taught the error of my way. Writhing and screaming in your lap, tears streaking my face as you punish me. You'll never make a good girl out of me, but that doesn't mean we can't try.
A good little bit of spirited…correction might make me a little prone to wanting to repay my tormentor in anyway I know how. I have the softest lips, the puffiest cunt, but…
Well, really, even if we do that…could you resist wanting to smack and bite this perfect ass? Or do I need to be even more bad to make it impossible to resist?
I always get what I want in the in, daddy, and sometimes I just want daddy to put me over his knee and get me wet, dripping, eager and maybe even willing to give something back. A good enough spanking and I might even bounce.
Austra
844-332-2639 ext 205