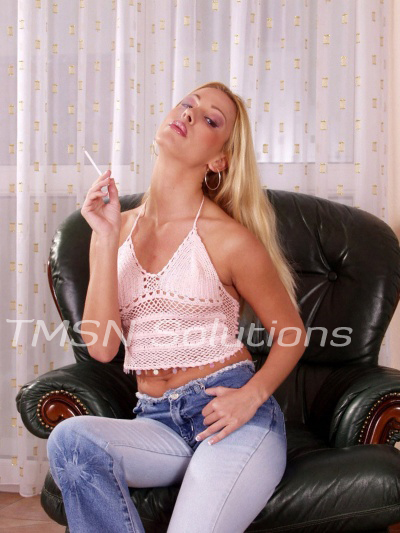 xXx Francie xXx 844-332-2639 x 208
After a really fucked up day, I just wanted to relax. I kicked off my jeans, poured a wine glass, and then sunk into the couch. It was far too hot for smoking outside, so even though I'm not allowed to smoke in my apartment, I lit one up. I put the cigarette to my lips and held the flame to the end, inhaling deeply as that rush floated to my head.
Ahh, just what I fucking needed. My head fell back to the couch as my eyes closed. I held my breath till my lungs ached and then finally exhaled. This was so much better than sweating my ass off on the small patio overlooking the highway. It was so good; I didn't want to stop. I sucked at the butt again. Long and deep, holding it until I was coughing up smoke. But then the annoying little box on the ceiling started to scream!
Smoking Finger Bang
The smoke alarm was blaring. I jumped up with the cig between my lips and grabbed my jeans. I started waving them at the alarm to shut it up before it got me busted, but it was too late. My door swung open, and there stood my landlord. Of course, he would want to play hero when I broke the rules but never bursts in when I'm burning the bacon.
"Tsk, tsk, tsk, Francie." He scolded and shut the door behind him. He was trapping us in with the smoke still leaking from my lips. He stretched up a hand and twisted the alarm off the ceiling, effectively silencing it. "You shouldn't be doing that in here." He was standing so close I had to back up, but his free hand looped around me and stopped me. That hand slid down my back and gripped my panty-covered ass. He dropped his head and sniffed up my neck. "But you look so fucking hot doing it." His finger pried under my panties and dug into my flesh until his middle finger slipped between my pussy folds. He drove his finger into me and growled into my ear. "Do it again."
I inhaled hard and turned my head slightly, blowing the smoke in his face as he dug his fingers deeper into my tight pussy. "Fuck yes, you bitch."
"So I'm not in trouble?" I smiled as I hooked an arm around his neck and sat into his fingers.
xXx Francie xXx 844-332-2639 x 208