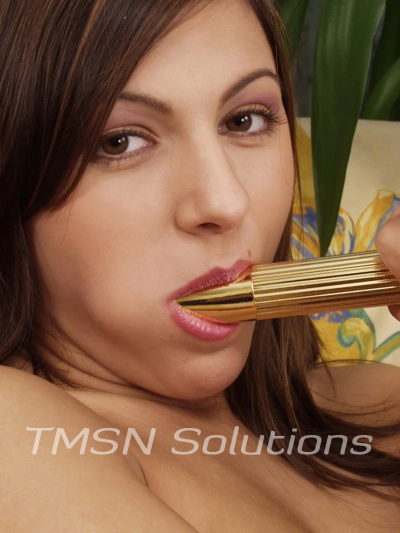 Hello, my pretty sissy.  I have someone I want you to meet.  He's big, strong, and very alpha.  I've invited him over for one reason and one reason alone.  So that you can wrap those pretty little sissy lips around that alpha cock and suck it as your life depends on it.  Depending on how good a job you do, I may even let him fuck your sissy pussy.  So, follow me to the sissy closet so that I can get you ready.
Sissy Lips
I have so many sissy outfits for you to wear.  Everything from sleek and sophisticated to frilly and poofy.  I have something for every sissy.  You'll learn that I love to take my time making sure you're dressed perfectly.  Your mouth and presentation reflect on me as much as yourself.  I don't want you to embarrass me with my alpha friend.
If you don't do a good enough job, there will be consequences.  You'll find yourself locked away in a sissy clitty cage and not allowed to cum.  While I'll take the opportunity to please that massive dick myself while you watch.  You can sit there sexually frustrated with a gag in your pathetic sissy mouth and your clitty hard and aching while you listen to me scream from orgasm over and over again.
So, if you want to enjoy that big juicy cock you need to be a good sissy and do everything you're told.  Dressed perfectly, make-up done just right, and that high-pitched sissy voice sliding out between those lips.  If you do all that, then you'll quickly find yourself on your knees with your mouth wide open ready to have that sissy treat fed to you.  I know you're already imagining it sliding over your tongue salty, meaty, and warm.  Pressing into the back of your throat as you swallow it down until it cums right down your slutty little sissy throat.
Zesty Zoey
1-844-332-2639 Ext 403