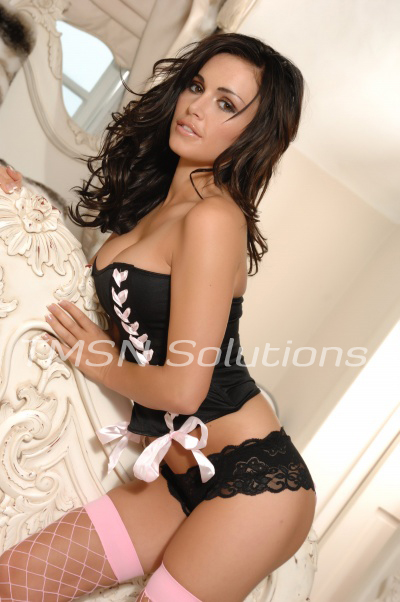 Sadie              1-844-332-2639 ext. 222
I received the strangest call from my next door neighbor. She said she had left something in her bedroom and asked if I could go get it for her. I asked her what it was, but she mysteriously said I would know it when I saw it. I never could resist a good mystery, so I went next door and used the emergency key they had given me, to let myself in. I walked to her bedroom and through the door, I could hear what sounded like porn on the TV. The mystery deepens.
Quietly, I eased the door open just a bit and could see there was two girls going at it on the screen. I peeked a little further in, and saw two delicious feet. That drew me further in and then I saw those feet were tied to the bed. I pushed the door open at this point needing to know what was going on in there and found my neighbor's husband, stark naked, tied to the bed, with a very sizable erection jutting up into the air. "Sadie! What are you doing here get out!" he yelled at me.
I immediately stepped back because he startled me and his voice is one that you just instinctively obey. But as I stood behind the door I replayed the conversation I had had with his wife. She obviously knew he was tied up and naked in the bed. She must have wanted me to find him like that. I stepped back inside more prepared this time. Again he told me to get out in that voice of his.
"Your wife asked me to come look in on you." I explained. "Does she know you are tied naked to your bed watching porn?"
"Yes she does now get out. Leave!" He struggled to get his hands free but he was not going to escape anytime soon. Then I saw the note laying on the bed between his legs. I picked it up.
"Sadie, Thanks for coming over. I wanted you to know I have caught my husband several times staring out the window at your house. Especially when you are at your pool or gardening. He swears he only has eyes for me. He says he would never fuck another woman, but I don't believe him so we made a bet.
So you can do anything you want to him, but before he can fuck you, he will have to beg you to be allowed to do it. If he breaks and begs you, please record it and send it to me. I won't hold any of this against you. I would actually love for you to make him beg to fuck you. Then I win the bet. If I get home and he has still not fucked you then he wins. I know I can count on you! "
I smiled at him. You told her that you never look at me?" I clucked my tongue, "That's not true. You look at me quite often Tim." I walked up the bed running my nails up his leg. "I think you are going to lose this bet." I looked at his bouncing cock, precum making it glisten, and licked my lips. "I think you do want to fuck me." I said taking my blouse off.
He turned his head and said he didn't, that he only wanted his wife. I stripped off my skirt and climbed up on to the bed beside him. "Sadie please just leave." he groaned as his eyes peeked back over me and began to move down my body.
"And walk away from allllll this?" I asked sliding my hands up his chest as I lowered my body half on top of his. He clenched his teeth. "Leave" he grunted through them.
"No." I said simply sliding my leg down over his bound and stretched one. He moaned louder and his cock twitched wildly. I caught the swaying shaft in my hand and stroked him. He tried to pull away from me pressing his ass back into the bed which only caused his cock to slide through my hand. Then he thrust his hips as if he could push my hand away but it just shoved him through my grip. "Untie me." he demanded.
"No." I said again and started to stroke him. "MMM what a beautiful cock you have. I always thought you would have a nice one though. MMM and look at this body. I pulled my leg up his so that I sat straddling his thigh. I gently rocked my pussy against the tense muscle. "She said I could do anything I want to you, and untying you is not at all what I want to do right now." I smiled and pushed myself back. My pussy slid down his leg. My legs twined around his as my tongue played with his cock.
He groaned and growled and threatened and begged me to let him go. I sucked and licked and savored his dick until he was panting and fucking my mouth. I felt his body tense and knew he was close to cumming. I took a few more strokes with my mouth then pulled away. He thrashed in the bed wildly. "Don't stop now, I was about to cum, please finish it please." He begged.
"How do you want me to finish it?" I gave him a chance.
"Just .. just finish what you were doing." He blushed red.
"No." I smiled and took off my bra. "I can tell you Tim there is only one way I'm letting you cum. That is if you fuck me. And in order to fuck me you are going to have to beg me. So why don't you just beg to fuck me now and save yourself a lot of torment."
"I can't" he moaned, "I'll lose the bet."
I slipped off my panties and mounted his face. "the let the games begin…."
Sadie
1-844-332-2639 ext. 222
www.candygirlphonesex.com/sadie/