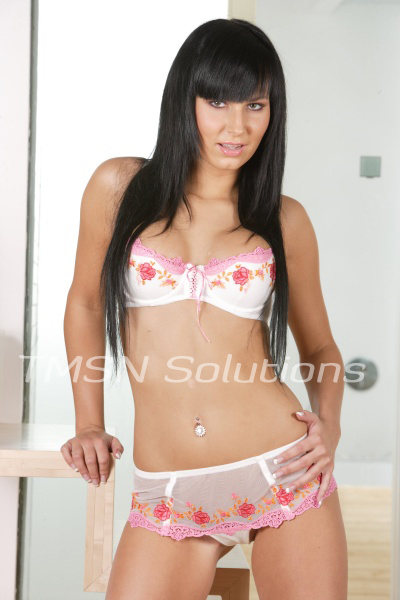 Zia 1-844-33CANDY ext 402
I have been with my share (okay most people's share) of hot guys and girls in my young life and often with a few people at the same time. However, I have always wanted to have a bunch of girls and big black cocks at once. Threesomes are so much fun but one of my fantasies is to have an orgy with 3 hot black guys and 3 sexy girls. I want my BBC orgy fantasy to come true.

I have had some big black cocks in my adventures but never more than one big black cock at a time. The thrill of being pounded by a huge 11-inch, thick black cock is so amazing. The way they fill my tight holes feels so amazing. I love watching his dark cock slide in and out of my pink pussy because the contrast in skin colors is just so sexy to me.
In this fantasy, I have 3 of my hot girlfriends with me and we're having a fun time. Then three huge, buff black men come over and they're ready to play, too. My girlfriends and I start making out and rubbing the cocks to get them nice and hard. Then we all start sucking them off on our knees beneath them to get their dicks ready to pound us.
In the midst of all the naughty orgy fun, we're in a pile of black and white skin mixing together and moaning in ecstasy. There's so much cock and pussy in my face I don't have enough mouth and fingers for it all. Can you imagine how hot that would be? I want to be stuffed in all my holes by black dick while rubbing pussy and tits and enjoying myself more than I ever have before.
We can make something like this fantasy come true. We could do a 2 or 3 girl call with you and even with another guy. Do you want to help fulfill my naughty BBC orgy fantasy? I hope you will.
Zia 1-844-33CANDY ext 402
https://phonesexcandy.com/zia/