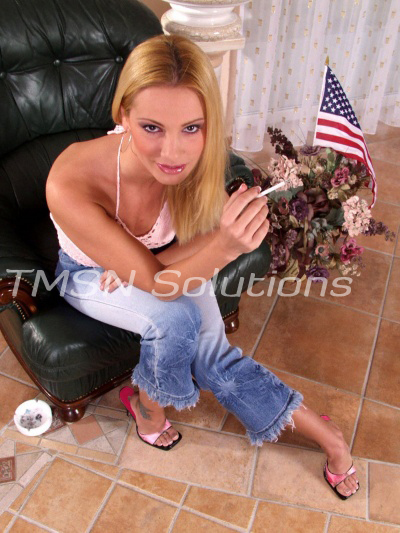 I'm the girl from the wrong side of the tracks. The one your Mama warned you about. I am every Mother's worst fear for her precious little boy. When she thinks about him growing up and finding a wife, she prays it isn't me.
She gets on her knees and begs that he'll find a good wholesome woman. Not a chain-smoking, cuss word spewing, promiscuous bitch from the trailer park. However, you don't want a wholesome woman, do you? Aching for me is just something you can't help! Wanting the one your Mama warned you about but are you man enough to keep me?
You'll love my foul mouth and the filthy fucking things I'll do to you in and out of the bedroom. Instead of embarrassing you in public, you know your cock will get hard watching other people scoff at how I speak. They'll blush and you'll be forced to grab your cock and tell it not to get hard!
The One Mama Warned You About
I'm no delicate princess who likes flowers and candy. Living a hard life has raised me to wanna fuck hard and play dirty.
I can sense your cock hardening at the thrill already and I haven't even begun to tell you about my buxom and shapely shell. I say shell because my outside appearance is just the first thing that is going to attract your horny mind and lure you into my web of lustful ploys. Behind my precious eyes and this silky blonde hair is a wicked demon.
Are you curious about just how nasty we can get? Call me to find out.
xXaFancie xXx
844-332-2639 x 208
https://phonesexcandy.com/francie/
https://sinfullyphonesex.com/francie/