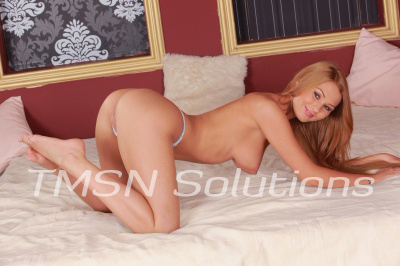 Kayla Cumsalot 1844-33-CANDY ext 357
Blogging for you naughty boys is such a creative outlet but sometimes it gets hard to spell out my kinky fantasies. I wonder if you like what I'm writing for if you pass over my words. Do you already assume it will be the same old kinks and the same old stories?
I've been in a funk recently wondering what you naughty fucks want to read and that has made my fingers slower to type out my filthy desires. I was mentioning this to a sexy caller and he had just the type of motivation I needed. He offered to go down between my legs and "get me all fired up to blog."
Blogging Buddy
Now that's what I'm fucking talking about. My dirty brain began to buzz with visions of how his hot mouth would indeed help me blog. I like to blog from my bed, propped up on a pile of pillows with my laptop on my knees but now all I can envision is the laptop resting on the crown of his head while his tongue works magic.
My slender yet toned thighs hugged tight to his ears so he can't hear my soft moans of approval while he works. The tip of his talented tongue flicking over the sensitive nub of my clit would spark sexy ideas for you guys to read.
You know I'm always open for blogging tips. Do you want to be featured in a blog like so many of my boys? Maybe you are too shy but still, want me to write about you? You can give me a false name to use and watch our play get posted for the masses to read.
I promise you, it's a lot of fun to be secretly exposed by Kayla Cumsalot.
Kayla Cumsalot 1844-33-CANDY ext 357
https://sweetlovinphonesex.com
https://phonesexcandy.com/kayla/