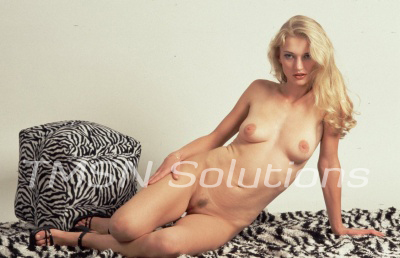 ~~~Olivia ~~~ 844~332~2639~x~226~~~
Bladder issues is something you don't want when you need to hold a pose for any length of time.  Sure you can get back into the same pose but something is lost.  While posing at one of the classes at the college recently I ran into a problem.  I posed for my regular class and another model asked me to cover for her.  My original class ran a bit long and the next one started before I had the time to make a trip to the bathroom.  About halfway through the class, I could feel the urge to go. You know how it starts; a small tingle at first then your stomach swells, then the problems start.  The class was almost over and I am sure I can hold out.  A student spills his art supplies; that stops everything.  A woman starts complaining about she has to get to the sitters. 

Bladder Issues
Seems there will not be time for me to run to the bathroom and her to make her obligations to the sitter.  I am sure I am going to wet all over myself.  Pressing hard on my thigh, I take the pressure away for a few minutes.  This is a trick that won't help long.  Now I am thinking if I lean back a bit and just release some of the pressure the wetness should go onto the material blanket I am posing on.  As I go to try that I can tell once I release the pressure I am not going to be able to control it.  Everything will be wet and the students will be able to tell what is happening.  What am I going to do?  The pressure is so bad and there is still some time to finish the class.  
~~~Olivia ~~~ 844~332~2639~x~226~~~
https://phonesexcandy.com/olivia
https://sissyphonefantasy.com/olivia