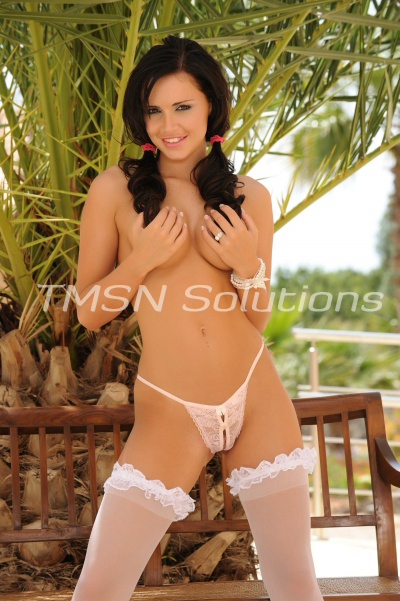 Sadie     1-844-332-2369 ext. 222
I stepped from the cool air conditioning into the hot humidity of the midwest summer to see him still putting that grill together. The lemonade in my hand beaded instantly with condensation. He had taken off his shirt and his back glistened with sweat as he strained to tighten some bolt or something. The glass in my hand wasn't all that was wet. I watched as he swiped his arm across his sweaty brow straightening his back and lust hit me like a tidal wave. His shorts were low around his waist giving just a teasing hint of what was below.
I walked towards him. Every movement putting pressure on my pussy making me hotter. "I thought you could use a little break." I said with a smile handing him the cold glass. He thanked me and took the glass drinking it down. I watched his throat working and reached down grabbing the hem of my dress and pulled it over my head.
He lowered his head and saw me standing there removing my bra and smiled. "What's this for?" he asked taking another sip.
"It's hot out here." I smiled and dropped my bra on the patio chair. I pushed my panties down my hips and added them to the pile. "You look delicious." I stepped up closer to him letting my hand move through the sweat on his chest and up over his neck pulling his lips down to mine. He kissed me.
My hands pushed his shorts down, baring him from the waist down. "What about the neighbors?" he laughed stepping out of his shorts and pulling my hips to his.
"Let them watch.. I don't care." I smiled and slipped my hands down his chest as I slid down to squat in front of him and took his hard cock into my mouth. I bobbed and sucked his cock there in the bright warm sunshine. My hands moving up the back of his thighs pulling his hips towards me. Encouraging him to fuck my mouth. Until he pulled himself back and grabbed my arms lifting me up. "I thought this was my break." he smiled and lifted me to sit up on the stone ledge.
Pushing my legs apart he lowered his face to my pussy. My legs slipped over his shoulders and my hand curled over the back of his head holding myself steady on the wall as his tongue worked its magic on my pussy. I tried to keep my moans and cries a little quiet but when he began finger fucking me I couldn't help myself. I screamed and came all over his fingers.
He moved himself up between my legs guiding his cock up against my still jumping pussy. "At least they will know you are having a good time." he smiled and pushed his cock between my legs making me scream again.
Sure I get some hateful looks from some of the women on my block and envious looks from their husbands but when you have a man as hot as mine. Why wouldn't you want the whole world to know it?
Sadie
1-844-332-2369 ext. 222
www.candygirlphonesex.com/sadie/